Lamar Advertising
Employee-Driven Learning
Project Type Software
Period 2012-2014
Role UX Designer, UI Designer, Front-end Developer
Making job training a simple and enjoyable experience for new hires and existing employees
Lamar Advertising has been a nationwide outdoor advertising business for over a century. With over 3,000 employees in over a dozen different departments in over 40 different states, on-boarding and training employees is a constant affair. Lamar needed a solution to onboard new hires and continue education, without much disruption to their day-to-day operations.
Our team at Envoc created a training library that replaced years of disjointed and outdated training materials with an engaging, collaborative internal web application. Within the application, Lamar employees can view and share training documents, interact with and comment on areas they have questions about, and even assign certain training materials to different employees as needed.
The result was an efficient system for onboarding that was able to mature and evolve as new materials were updated and added. It included multi-media support for documents, external links, videos, quizzes, and certifications that could be created by assigned authors within the relevant departments.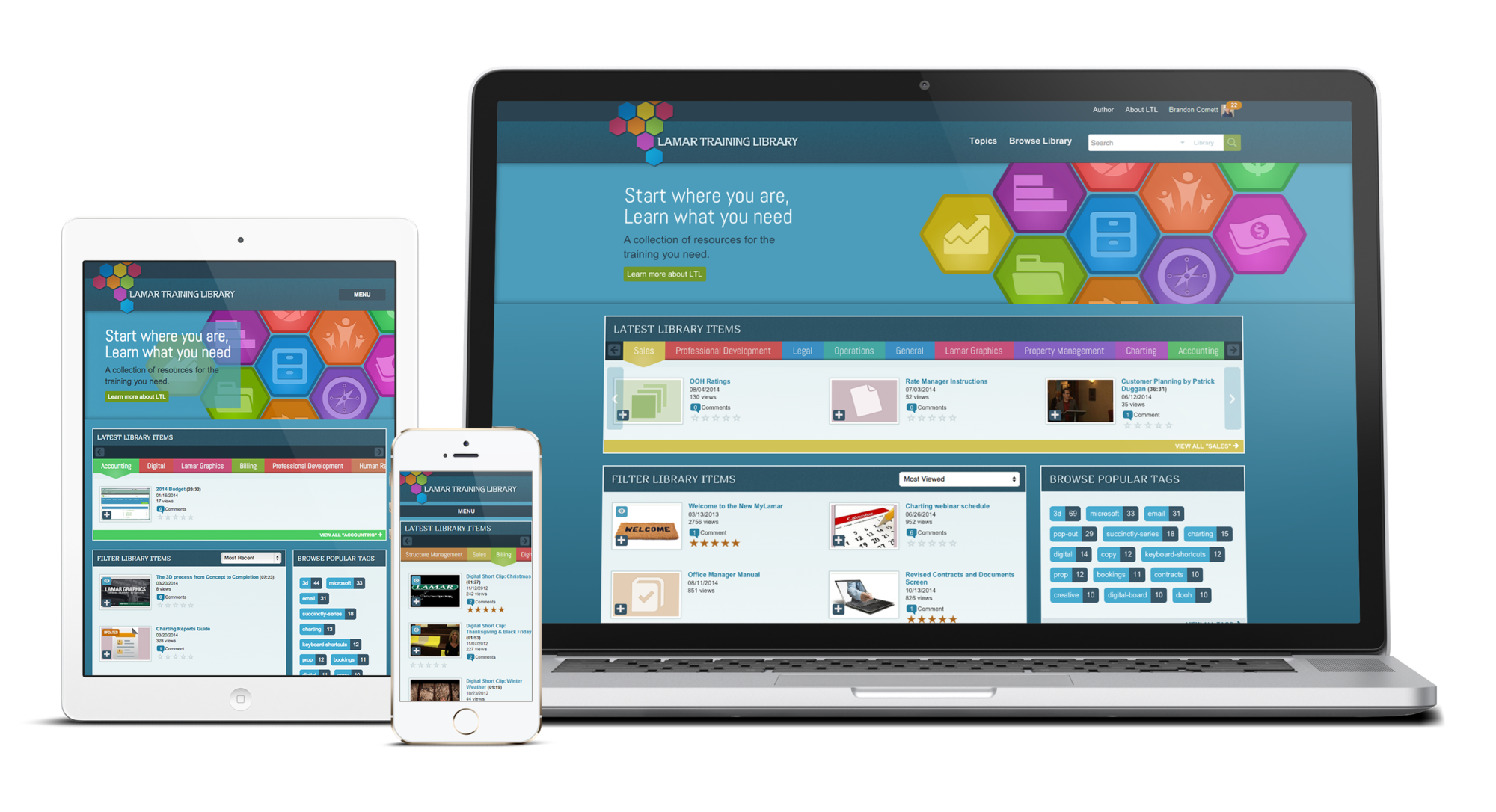 Careful attention to usability leads to a seamless adoption
One of the biggest challenges we faced was the adoption of the new application by Lamar's existing employees who were crucial in its success.
Our goal was to make their jobs easier, not harder, which meant that as the lead designer, I held great responsibility to design a favorable user experience. In collaboration with the Lamar team and our developers, I was responsible for both the application architecture as well as wireframing all of the screens in the application to make sure it was easy to use and understand for all parties involved.

Eye-catching visuals meet sophisticated technology
I served as both lead designer and front-end developer on this project, which meant that I not only designed the look and feel, but also built out the user interface using HTML, CSS, and JavaScript. I also worked with our developers in Visual Studio to build out the custom .net web application.
The Lamar team and I went through several options for visual direction, and the final approved design featured an eye-catching color palette with iconography to lead users through appropriate sections in the site. The result is a beautifully polished piece of advanced technology.
An Agile approach leads to success at each phase
Throughout the project, we worked in 2-week iterations for an Agile-style approach. This means that we built out the application in phases, starting with what was absolutely necessary for launch and gradually adding on more and more features over the span of 2 years. Our first release offered simple video embeds as well as file and link sharing. Over time, we added more complex features such as resource bundles, instruction guides, quizzes, and certifications.
A phased approach meant Lamar's employees were able to use the application sooner rather than later, and to be excited as new features were implemented over time. This allowed Lamar to keep their content fresh and encourage interaction beyond the initial onboarding experience.